Don't go thinking that food labels were created just to decorate a product's packaging! On the contrary, they are strong symbols of quality, food safety and sustainability, a topic that is increasingly important to French consumers when shopping for groceries and dining out. In that arena, responsible farming conditions and production methods are also becoming key components.
HOORAY FOR SIQOS*!
In Europe, "official labels" for food are first registered with the European Commission and then managed nationally.

In France, those dossiers are handled by the ministries responsible for agriculture and consumer affairs and the INAO (National Institute of Origin and Quality). Official food labels provide quality assurance to consumers who are mindful of eating healthy and responsibly, as well to restaurants that want to meet their customers' expectations. 
With the promulgation of the EGAlim Law on food, especially Article 24, France is now very far ahead of the curve: at least 50% of the products purchased by canteens must now be sustainable and high-quality, including at least 20% organic products. 
Thus far, the INAO has recognized a total of six labels, although there are many more that were created by local, private and not-for-profit initiatives, such as the Fairtrade, Bleu-Blanc-Cœur, Ecocert and Small Producers (SPP) labels, which offer guarantees – to different degrees – concerning fair trade, nutritional benefits and more equitable income for the various actors along the value chains. Others are public labels, like Œufs de France (French Eggs) and Pêche Durable (Sustainable Fishing), which were created to reward the work being done to ensure product traceability and to preserve the environment.
 The pandemic has further reinforced diners' attachment to products whose origins are known and whose quality is well-established… A recent GECO Food Service study, conducted in the midst of the health crisis, shows that French consumers are looking for better control over the food they consume, with a preference for French products (56%), local products (49%), home-made products (56%) and high-quality products in general. 
SOME FRENCH, EUROPEAN AND INTERNATIONAL EXAMPLES
Of the official labels, the PDO (protected designation of origin) guarantees very strong ties between the product and its provenance. 
In France, PDOs cover a large number of dairy products (more than 45 cheeses, plus butters and creams), along with fruits and vegetables like Roscoff onions, Nyons olives, Solliès figs, Chasselas de Moissac grapes and Grenoble walnuts. Gorgonzola and certain varieties of tomatoes in Italy, feta in Greece and gruyère in Switzerland also have their own PDOs. 
In terms of PGIs (protected geographical indications), they exist for Vendée mogette beans and Agen prunes in France, Scotch lamb in the UK and Bayerische beer in Germany. Certain products from outside the European Community also have their own PGIs, like Colombian coffee and Darjeeling tea from India. 
TSG (traditional speciality guaranteed) labels certify that a product was made from a traditional recipe, as is the case with mozzarella in Italy and bouchot mussels from France.

But it would be difficult for some foodstuffs to earn a PDO, PGI or TSG. In those cases, the value chains arrange to promote their products and guarantee traced quality to their customers, from farm to table.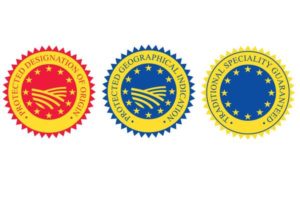 HIGH QUALITY EGGS: A WHOLE VALUE CHAIN'S COMMITMENT
Eggs are a wonderful example of what an industry can do to enhance a product's quality whilst meeting consumer expectations. In 2016, the French interprofessional egg association, Europe's leading egg producer, launched an enormous project which gave rise to a "Societal Contract for the Future". This announced the industry's desire to adapt its farming methods to the major societal expectations which had already emerged very clearly pre-COVID. The goal was to have 50% of laying hens living on cage-free farms by 2022. 
Today, that ambitious gamble is paying off, with more than 1 in 2 hens in France at alternative farms (53%), two years ahead of schedule. Aviaries, organic and free-range have largely taken over from battery cages, despite the costs engendered by conversion. Thankfully, those efforts are appreciated by the general public, as revealed by a 2019 survey, in which 85% of the French population stated they would be prepared to pay more for alternatively farmed eggs**. 
By 2022, organic egg production should also increase by 50%, and the number of Label Rouge laying hens should grow by 20%. 
EXEMPLARY FARMS
Another objective set by the industry was the pursuit of actions in favour of animal welfare. 
Although debeaking is still allowed for cage-free, free-range and organic chickens, as indicated by the organization CIWF (Compassion in World Farming), farmers are now prioritizing: 
– perches (with at least 15 cm per bird) 
– the presence of litter (dry and flaky) to encourage dust baths (which are necessary for the chickens to natural rid themselves of parasites) 
– natural light 
– the presence of at least four different pecking substrates (per 1,000 chickens). 
All these actions are being implemented to produce Code 2 (cage-free) eggs from chickens raised in buildings with no cages. And the fact is that chickens have a natural need to explore, peck, perch, scratch the ground and interact with their fellow birds. The Cocotine egg brand (Eureden Œuf) has for example decided to go a step further in its consideration of chickens' needs and in improving their living conditions, with the creation of the "animal welfare cage-free eggs" range, which incorporates all those different parameters.
In addition, it is important to know that most French laying hens eat GMO-free feed and are treated without antibiotics (whenever possible).

The industry is also setting up new tools to simplify the calculation of animal welfare metrics. A mobile app has been developed for farmers to use to take those measurements and is accompanied by a catalogue identifying suggestions for improvements. 
Lastly, the Œufs de France (French Eggs) label is another hallmark of quality. It promotes the entire French egg industry, as a whole, from hatchery workers to egg packaging and processing companies, by way of farmers and feed manufacturers. Certified French Eggs are traced from the hatchery to the chicken farm, and all the animals' movements are monitored, from the time they enter a building until they exit it. This approach is verified not only by self-checks but also by independent third parties. As a result, food safety and product provenance are fully guaranteed, in line with our changing society and diners' expectations. 
* SIQOs are official French identification signs of quality and origin, like AOCs, PDOs, PGIs, TSGs, etc.
** CNPO/CSA study, 2019