Cocotine, a Eureden Group co-operative brand
Eureden is a co-operative agri-food group, the fruit of the union of the d'aucy and Triskalia Groups. Eureden now counts some 20,000 farmers and 9,000 employees, all united around a shared ambition: healthy, responsible food for all, with an ongoing concern for meeting the legitimate expectations of consumers and society as a whole.
Today, Eureden stands for more than 10 brands, 60 industrial sites and 300 shops, representing annual turnover in excess of €3 billion.
Visit Eureden's website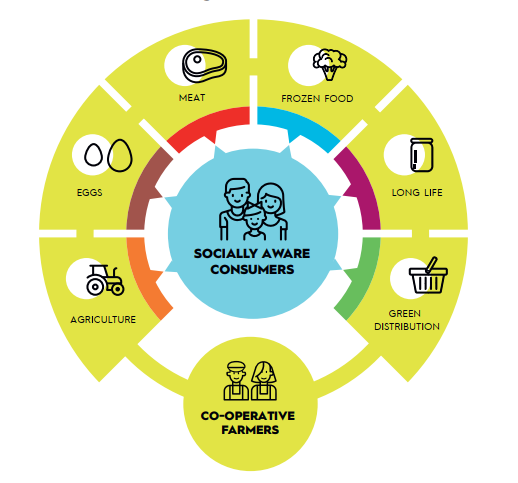 The co-operative and our codes
Most Cocotine eggs are supplied by farmers' groups from Eureden's co-operatives, from a value chain perspective. This upstream integration gives us control of our sourcing and our delivery lead times, whilst enabling precise traceability at every link in the chain. Thanks to this set-up, we are able to continuously supply our clients with the desired quantities of high quality products, all year round, without having to worry about any external variables.
Thanks to our organisation in value chains, we are able to offer eggs from:
"Animal welfare" cage-free chickens
Free-range chickens
Organic farming.
Watch a video presenting the group's egg branch, Eureden Œuf
Cocotine is a co-operative brand
Created by producers, Cocotine now counts more than 230 co-operative farmers working by our side to produce quality eggs. The co-operative helps producers in their day-to-day work, in some cases optimising a farm's organisation and operations through support from our technical experts, or else assisting with long-term projects to convert to alternative farming methods that demand significant investments in order to modernise and upgrade their facilities.
Watch our video presenting one of our animal welfare cage-free and organic farmers!
Watch a video of one of our Cocotine farmers!
English catalog of Cocotine's products
Discover our large range of chilled and frozen processed egg products with our catalog.
Discover the catalog
Cocotine's production activities are divided between five sites across France, with each site specialising in specific product ranges:
PEP Ploërmel: Egg shelling & cooked egg-based products
PEP Carvin: Frozen egg-based products (omelettes, French toast, egg wraps, etc.)
PEP Lamotte-Beuvron: Pasteurised shell eggs
PEP Pierrefitte-sur-Sauldre: Poached eggs & soft-boiled eggs
Coltivia Bournezeau: Cocotine brand egg sprays & Cook in Spray brand cooking sprays
Watch a video about our new egg shelling plant!