Oeuf parfait in shell | Cocotine
It is an egg cooked at a low temperature to keep a creamy yolk.
Description
What is an Egg Parfait or Perfect egg? 
Our Eggs Parfait are thoroughly cooked for 45 minutes below the boiling point. The process was developed by French chemist Hervé This, who demonstrated that egg whites coagulate at 62°C, and yolks at 68°C. The end result is that, when the egg is broken, its white (also known as albumin) is firmly set, while the yolk is still nice and runny. This lovely balance is achieved by cooking the white and the yolk as close as possible to their coagulation temperatures to create a unique, melt-in-your-mouth texture. It is a story of where home cooking and professional cuisine meet.
There are many different egg recipes out there… The Egg Parfait stands out from the soft boiled egg which comes from traditional cuisine. It cooks for 6 minutes in boiling water.
Advantages of Cocotine's Egg Parfait
It is rich in protein and vitamin B.
The white is firmer than in a soft-boiled egg.
It optimises the handling of last-minute orders, with zero product wastage.
It provides consistent quality, even during large meal services.
Our Egg Parfait is well-suited to all types of restaurants and recipes (for both mains and starters).
A safe, pasteurised high-quality product
This pasteurised shell egg can be safely incorporated into your kitchen routine! It is vital to ensure that our Eggs Parfait are kept hot and maintain their texture throughout meal service, whilst following all health and safety rules. This way, the eggs will remain pasteurised.
For perfect results, the most important thing to remember is to use a high quality of fresh, free-range eggs!
Examples of applications for food service
Eggs parfait are becoming very trendy in the world of institutional catering. The arrival of young chefs and more effective equipment is making this low-temperature cooking method more popular in kitchens. And these days, this preparation is also being introduced into school cafeterias.
One piece of advice for adding freshness to your diners' plates: serve our Egg parfait in a salad or on toast.
Various reheating methods are available:
Immersion circulator (or Gastronom container): Heat 15 minutes at 55°C to an internal temperature of 50°C.
Boiling water: Boil 1 litre of water per 3 or 4 eggs. Remove from the hob and place the eggs in the water for 10 minutes, heating to an internal temperature of 50°C.
You can also reheat these eggs in a steam convection oven: Heat 15 minutes at 60°C to an internal temperature of 50°C.
Specificity
Oeufs de France


Packaging
2 boxes of 10 eggs
Recipe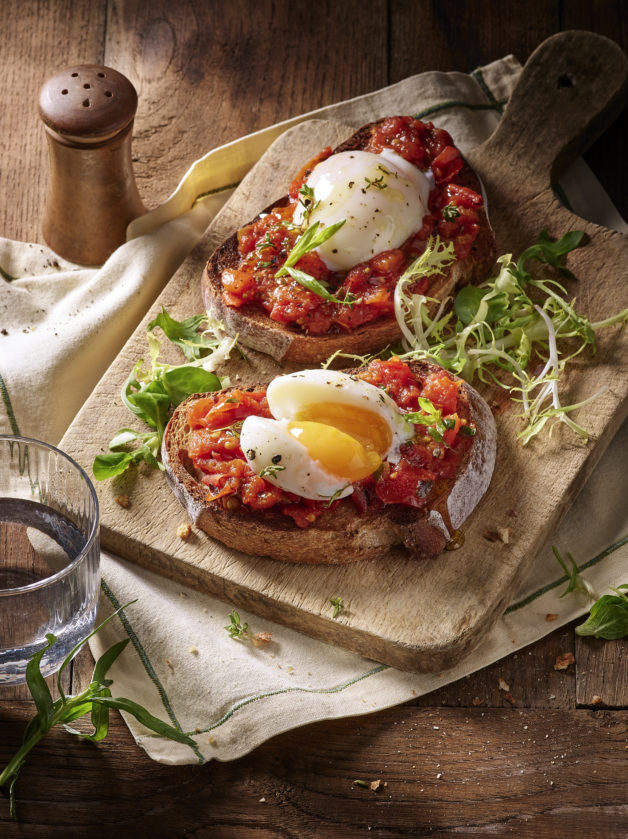 Egg Parfait on Toast with 2 Kinds of Tomatoes 
Reheat the Egg Parfait in a pot of boiling water or an immersion circulator at 45°C.
Chop some shallots, and then peel and dice some fresh tomatoes.
In a saucepan, sweat the shallots in olive oil and add the diced tomatoes, some sun-dried tomatoes (quartered), tarragon and thyme flowers. Season with salt and pepper, and cook for 15 minutes.
Toast some slices of farmhouse bread and rub them with garlic.
Presentation: Spread the tomato-based preparation on the bread, place an egg on top of each toast and then drizzle with a few drops of olive oil.
So, have we won you over with this recipe?